FHT Solutions specialises in EMR consultancy and IT solutions for healthcare teams and, in Ontario, Family Health Teams. We strive to offer great solutions that improve practice and clinical management. We cater to the special needs of practice management and administration - not just those of clinical workflow. We provide solutions and tools for the unique set of needs and challenges that arise in teams of health professions in distributed settings. We specialise in custom analysis of patient populations, and in developing processes and technology for health promotion, disease prevention, patient management/communication and chronic disease management.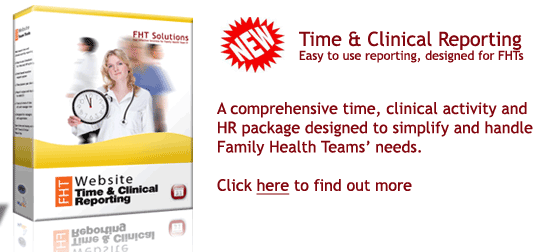 Professional and cost-effective. Call FHT Solutions for help with technology, EMR's, software and systems.


Designed for FHTs; packed with FHT features
Team Portal
Designed for self-management
40 hours consulting
In use across the Province
and much more..... click to find out

Does your Family Health Team need a website: to provide a face to the community and for recruitment? FHT Website Professional is a cost-effective answer.
Over 20 years experience in IT and Information Management technology
Experience working with senior management, leveraging IT
Essential IT infrastructure
Email, web systems, OTN, eHealth Ontario
Custom projects and information research and more..... click to find out

Do you need help in managing your IT systems on a small budget?
Practice Solutions - data mining and custom form design
Clinicare - automation, labs, & reporting
Data extraction and analysis
QIIP, demographics, Ontario bonus reporting
Labs, billing, recalls, CDR
Automation ... generate QIIP reports in 15 mins..... click here

Do you need help getting the most from your EMR? Labs, billing, CDR, recalls? Call us.